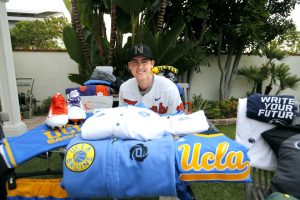 NARP Clothing plans to empower former college student-athletes
By Andrew Turner | Daily Pilot Staff Writer
A great debate surrounding collegiate athletics has been whether a student-athlete should be allowed to profit from their name, image and likeness.
KJ Bryant and Patrick Cromwell believe that college athletes should be able to reap the benefits of their hard work.
Formerly teammates in the Clemson baseball program for the 2017 season, the duo was reunited when…click here to read the full story 
FORMER CLEMSON BASEBALL PLAYERS LAUNCH NARP CLOTHING TO GIVE FORMER STUDENT-ATHLETES A TRUSTED
PLACE TO SELL THEIR TEAM-ISSUED GEAR
First-of-its-kind marketplace for apparel and accessories gives former college athletes a platform to sell and profit from their player-owned gear while enabling fans to stay connected to their favorite players and teams.
Costa Mesa, Calif/Columbia, S.C. (Sept. 08, 2020) – NARP Clothing – a brand new marketplace that gives former student-athletes the ability to sell their team-issued gear – today announced its official launch. Co-founded by former Clemson baseball players, Patrick Cromwell (class of 2018) and KJ Bryant (class of 2017), the platform is the first of its kind, created by and for former U.S. college athletes—and the fans that have followed and supported them.
"We are really excited to build a brand former student-athletes can trust," says Cromwell, a native of Costa Mesa, Calif., who after attending Santa Ana College received a baseball scholarship to Clemson University. "Though KJ and I developed this idea in 2019, I continued playing in Australia and Germany after graduating, with plans to play in France in 2020. Then the pandemic hit. Rather than waiting in the unknown, we decided to get NARP up and running, recognizing that at a time when most college sports are on pause, it's a great way for fans to feel connected to their favorite players and teams while helping former student-athletes monetize years of their hard work. Not only that, but now fans have the incredibly unique opportunity to own gear and apparel that can't be found anywhere else."
Sports programs are a major source of revenue for many U.S. colleges. In the National Collegiate Athletic Association (NCAA) alone, which is comprised of nearly half a million college athletes and more than 1100 Division 1, 2, and 3 schools, revenue topped $10.3 billion in 2018. Unlike professional sports, student-athletes are prohibited from capitalizing on their name, image and likeness until they either turn pro or become a non-athlete regular person (NARP), which is not considered a derogatory term but rather a well-known acronym among players when they phase out of college sports—hence the name of the new marketplace. While things may change in the 2021-2022 academic year, as the NCAA has outlined plans to let athletes earn money from endorsements, the deals have restrictions and would likely only benefit the elite few.
By establishing a marketplace where any former student-athlete from any sport can sell his or her team-issued, player-owned gear, Cromwell and Bryant share a goal to be renowned as the most trusted platform where the players get more than a fair share of the profits. To ensure authenticity, all athletes are personally verified before joining the platform. So far, lockers have included:
Seth Beer, Clemson University baseball, 1st round draft pick
JB Bukauskas, UNC Chapel Hill baseball, 1st round draft pick
Eric Gilgenbach, University of Notre Dame baseball
Daniel Patzlaff, University of Oregon baseball
John Simpson, Clemson University football, 4th round draft pick
Garrett Taylor, Penn State University football, free agent sign
Andre Baccellia, University of Washington football, free agent sign
Kendall Joseph, Clemson University football, two-time National Champion
Isaiah Roby, University of Nebraska basketball, 2nd round draft pick
Alex Olesinski, UCLA basketball
Kahlil Whitney, University of Kentucky basketball
Payton Chang, Stanford University women's volleyball
Brittany Welsh, USC women's volleyball
Sarah Riley, TCU women's soccer
Alex Martens, University of Kentucky softball
NARP represents all sports, male and female, and has lockers from a wide range of schools across America—from Washington to Florida and Wisconsin to Texas. There's even an option for sellers to donate proceeds to the charity of their choice. Megan Whittle (Maryland Women's lacrosse), a two-time National Champion and 2nd All-Time in NCAA in goals scored, raised over $1000 for Black Lives Matter by selling her gear through NARP Clothing.
"What really sets us apart is our personal relationships with the athletes who chose us as partners," says Bryant, who received a baseball scholarship at Clemson, earned his degree in three years and played a fourth year at College of Charleston while completing a master's degree in public administration. "Plus, we have some really cool plans that we are putting into action right at this moment, including a vlog from one of our athlete partners, Myles Rice (Washington football), that highlights his life as a NARP, or life after sports, which is so important considering very few go on to play professionally. We're going to give all of our marketplace athletes the ability to create a vlog, and we're also going to incorporate NARP Academy, which allows high school athletes the chance to have a video call with a former student-athlete and ask them questions about college recruitment. That kind of insider knowledge and advice is priceless."
For media with inquiries: [email protected]
For more information, visit www.narpclothing.com
Patrick Cromwell: (714) 369-5723
KJ Bryant: (864) 915-2754